Welcome to Master's Table
When we think of hunger, our mind naturally envisions impoverished people living in other parts of the world. It is difficult for many of us to consider that hunger exists right here in our own backyard. Without food a family can't function, a child can't learn and an adult can't work.
Why We Exist
Yes, there is hunger in CT. Hunger and food insecurity are problems for many CT citizens, despite the fact that our state is one of the wealthiest in the nation. Everyday some CT residents wonder where their next meal will come from. According to a recent survey done by the CT Food Bank, 42 percent of the clients had to choose between paying for food or utilities, percent between food or rent and 30 percent between food or medical care. The need has worsened with the economic downturn.
Established in 2011, Master's Table Community Meals, Inc. is a 501 (c) (3) non-profit organization whose goal is to help the less fortunate members of our community. This includes, veterans, elderly, unemployed, underemployed, poor, migrants and homeless – women, men and children. We feed the hungry by providing them nourishment and clothing.
Master's Table Community Meals provides meals at no cost to our guests and is sustained by committed and compassionate volunteers and also, by the generous contributions of donors. 
We hold on to the belief that while we may not be able to help everyone, we will support as many individuals and families as we can. We have a "no questions asked" policy.
Latest News:
Fall into the Holiday Fair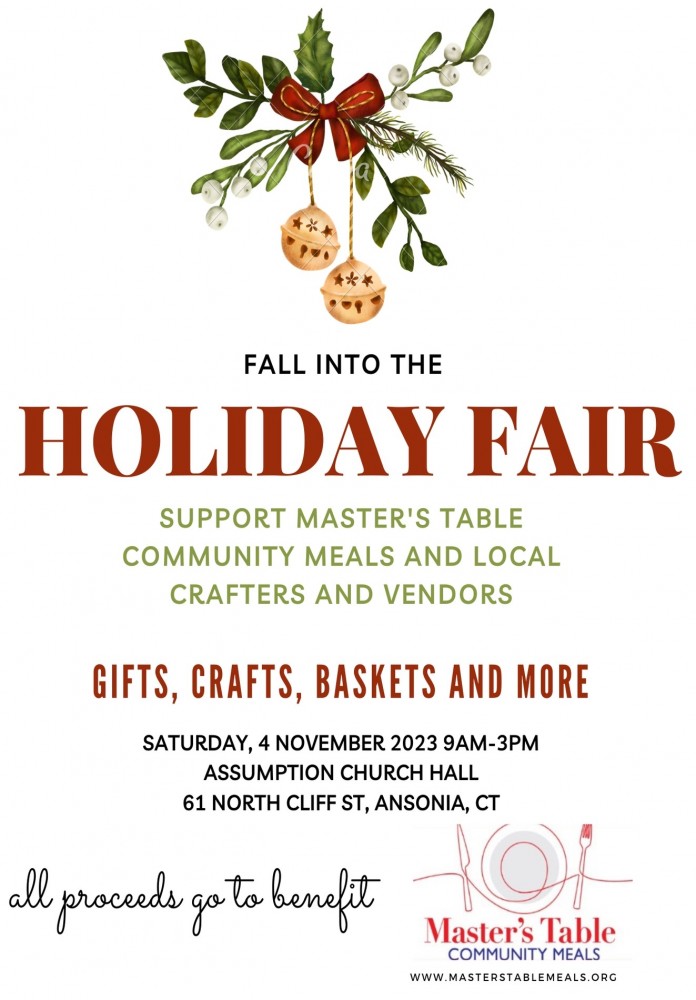 ---
Many thanks to our platinum sponsors
Pro Counters of New England 
Griffin Hospital 
Valley Community Foundation
Free Community Meals in October
October 22
From 3:30-5:00pm or until food runs out.
Take out meals may be picked-up in the hall. Mask are optional. All meals located at Assumption Church Hall 61 N. Cliff St, Ansonia, CT 06401
Cost: Free, open to the public, no RSVP required. [ more ]
Big Y and Stop and Shop Bag Program
Don't get stuck paying for plastic bags at the grocery store or having to carry your items out in your hands. Purchase a giving bag at Stop and Shop or Big Y, go online, enter your code from the tag on the bag, choose Master's Table Community Meals and we will receive $1 for each bag registered. You have 7 days from the date of purchase. Now you have a bag to hold your groceries and help raise money for a great organization.
2023 Winter News from Around the table
Its a new Year and we have some new facs on the board.  Click [more] to read about it. [ more ]